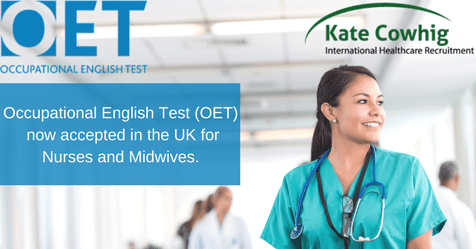 The Nursing and Midwifery Council (NMC) has announced it will formally recognise OET for overseas-trained nurses and midwives for registration purposes, from 1 November 2017.
OET is an English Language test that assesses the language & communication skills of healthcare professionals who seek to register & practice in an English-speaking environment. OET assesses Listening, Reading, Writing and Speaking.
By taking OET you will prove you have the right level of English plus you'll be learning the kind of language you will need every day at work.
Healthcare professionals choose OET because:
OET uses real healthcare scenarios so you'll feel more confident on test day.
OET is widely recognised as proof of English proficiency for registration, study and work in the healthcare sector, as well as for visas in some countries.
The OET tries to imitate the target workplace and was designed by both health professionals and language experts together.
OET helps you develop language skills for success in your career.
Exam Centres
OET can be taken in many locations around the world & is currently available in over 40 countries. Please note that new venues will be opening regularly from December 2017 onwards.
To check when the next OET exam will take place in the country you are living in, please follow the link below:
https://www.occupationalenglishtest.org/test-information/test-dates-locations/
The OET can be taken each month in every location it is currently available. OET applications are open for two test dates at the same time so that candidates can choose to apply for one of two upcoming tests.
 Cost
The test costs $587 AUD globally (€390 EUR or £349 GBP)
*price depends on the exchange rate on the day of payment)
Exam Preparation
It's easy to prepare for the test using the OET Preparation Portal, here you will find downloadable sample test materials, you can register for an OET Masterclass & you will find detailed information about each subtest & its assessment: https://www.occupationalenglishtest.org/preparation-portal/
The OET Shop also has a wide range of official OET practice materials. OET books include sample tests and short study guides. Listening books also come with CDs. Books and their associated costs can be found and ordered at the OET Shop: https://www.occupationalenglishtest.org/shop/
Training Centres
Please follow the link below to find your local training centre. Please note that training centres are not yet available in every country but new venues will be opening regularly from December 2017 onwards. In the interim online preparation courses should be used.
https://www.occupationalenglishtest.org/preparation-portal/external-preparation-course-providers/
Pass rate required by NMC
Overseas-trained nurses who are required to take an English language test to gain registration with the NMC need to achieve Grade B across all four OET subtests i.e. Listening, Reading, Writing and Speaking.
Results for the four subtests are reported as one of five grades – A: highest to E: lowest). Results available 15 business days after completion of the exam.
If a candidate does not gain a 'B' pass in one or more skill areas, they are only required to re-sit those areas (at a lower price depending on how many skill areas need to be tested).
The NMC will only accept results dated from February 2016 onwards.
You can pool results from two exams taken within 6 months of each other (from Feb 2016 onwards) whereas Grade B is an IELTS 7 & Grade C+ is an IELTS 6.5. After both exams you must have achieved Grade B in each of the four sub-tests. For more info see: https://goo.gl/4teGy3
Apply
OET is designed for the healthcare sector and test materials reflect real healthcare scenarios. OET Grade B is equivalent to IELTS score 7.0. For more information on how to prepare for OET and apply to take OET, go to: www.occupationalenglishtest.org
<< Previous Post
New Manchester University NHS Foundation Trust
Next Post >>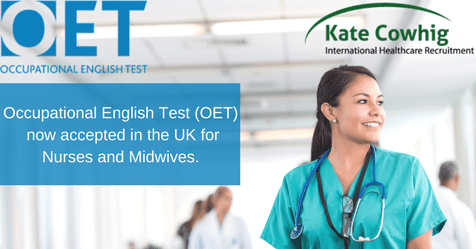 Ireland's New Children's Hospital located in Dublin