Permanent Full-time Positions
Kate Cowhig International Healthcare Recruitment is recruiting international nurses for The HSE in Ireland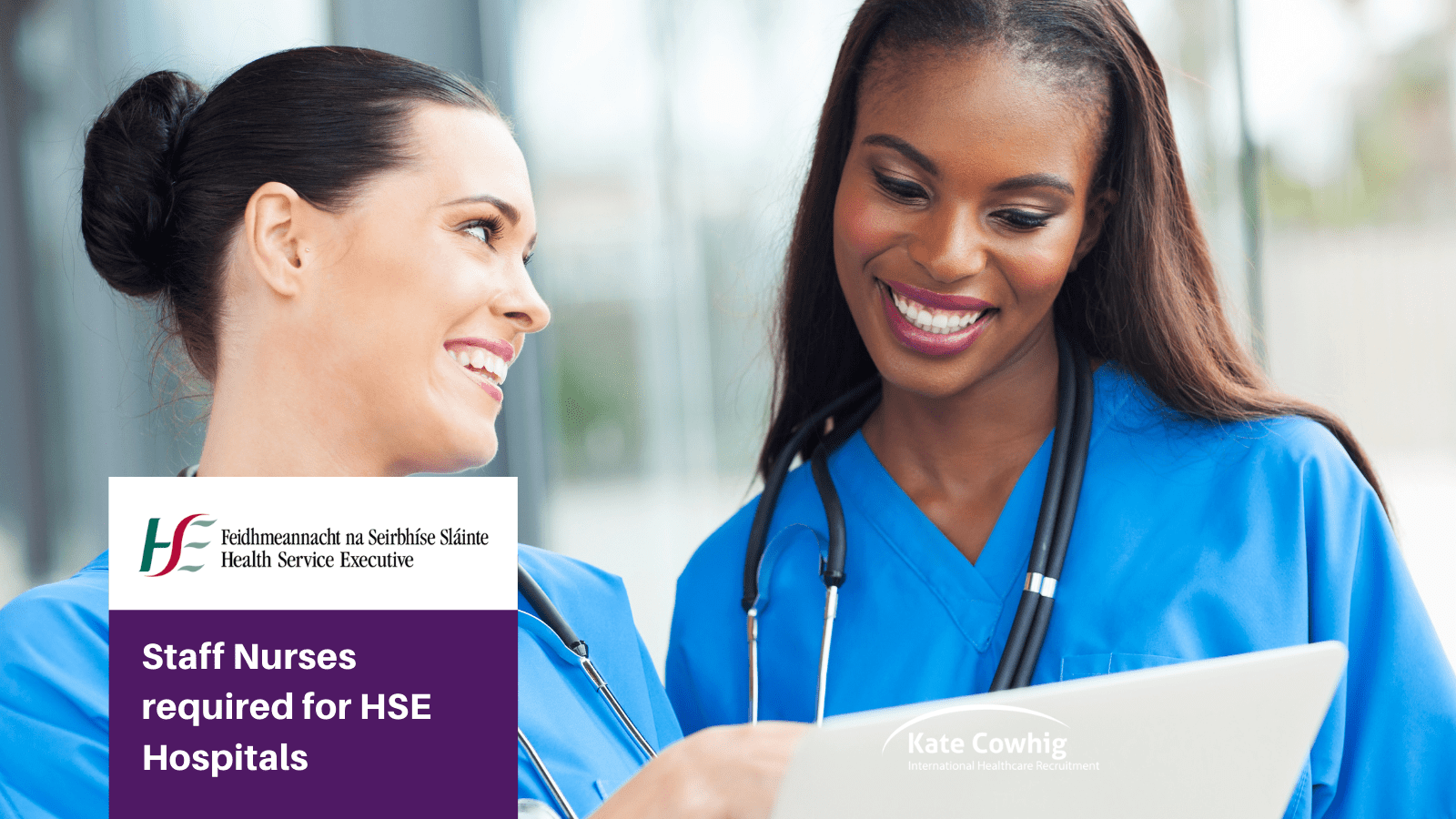 The Position 
We are seeking experienced International nurses and ambitious newly qualified nurses to join nursing teams across HES hospitals. See our latest positions here: https://kcr.ie/job-listing/location_ireland/
The Location 
About Dublin
Dublin, Ireland's capital city, is located on the east coast of the country. It is a vibrant and fast paced city with lots to see and do. Dublin is very diverse and is well-known as one of the friendliest cities in the world!
There is wide variety of things to see and do in Dublin city and its surrounding areas. For more information about Dublin city and county, visit www.visitdublin.com.
About Laois
Located just over an hour away from Dublin, Laois is located in the south of the Midlands Region of Ireland and is also located in the province of Leinster. Laois was formerly known as "Queen's County" on the east coast of the country. The county town, Portlaoise, has seen a huge amount of industrial development over the past decade. The Slieve Bloom Mountains cover a huge portion of the northwest part of Laois, spilling over into Co. Offaly and providing some 480 km of walking trails.
For more information about Laois and county, visit http://laoistourism.ie/.
About Kerry
County Kerry is a county in Ireland. It is located in the South-West Region and forms part of the province of Munster. Tralee is the capital town in County Kerry. It's best known for the Rose of Tralee International Festival. A glass wall in Tralee Town Park bears the names of all the contestants in that festival's beauty pageant. The Kerry County Museum has galleries on local history and a re-creation of medieval Tralee. Nearby, the National Folk Theatre of Ireland, Siamsa Tíre, puts on Irish music and dance performances.
For more information about Tralee and county, visit https://tralee.ie/
Salary & Benefits:
Salaries and benefits will vary depending on the location and position you apply for but here are some of the benefits you can expect to see:
Competitive salary based on years of experience and additional pay for shift differentials.
Permanent, full-time contracts – 39 hours per week
24 days annual leave, plus 9 public holidays
Professional development and educational opportunities
Assistance and reimbursement with Accommodation provided*
Flight reimbursement allowance *
Excellent relocation package*
Full support from KCR throughout the entire process.*Terms & Conditions apply
Eligibility Criteria: 
Full registration with NMBI or Holding NMBI decision letter
Candidates from non-english speaking countries will need to complete the IELTS / OET exam if they have not applied to the NMBI for their application pack.
You are committed to continuous professional development.
You have the passion to deliver care of the highest standard.
*Terms & Conditions apply