If so then no doubt you will have one or two questions on how to best prepare for your big move. With that in mind we have put together a little fact sheet about the UK to help you get yourself organised. Some of the facts might be obvious, some may not apply to you and some are just for fun but either way, be sure to have a read before you make the move!
Money
The currency in the UK is pound sterling (unlike the rest of Europe the UK did not join the Euro). However, in the London (particularly in London Tube stations) there are facilities for withdrawing Euros and throughout the country most post offices do have a Bureau De Change. Some establishments will accept Euros although change will be given in pound sterling so it is well worth getting some cash exchanged before your arrival.
Debit and credit cards are accepted across the UK, but there can be a charge for using foreign cards in the country so if you're relocating to the UK for an extended period it is well worth opening an UK bank account if you can.
If you do want your existing debit and or credit cards to work in the UK, make sure you call your bank before you leave! This will help them understand the activity on your account and reduce the likelihood of them suspecting suspicious activity and freezing it.
The UK system for using credit and debit cards is "chip and pin". This will be new particularly if you are relocating to the UK from the United States. Transactions can be refused in the UK if your card does not have an embedded chip as well as a 4 digit pin code which you will need to enter into a card machine to use it.

Transport
The best mode of transport in the UK largely depends on where you are in the country. In London your best travel option is to use the buses, trains and tubes (subway or underground). To do this the cheapest option is to by an Oyster Card which can simply be swiped at all the ticket machines for exit and entrance. You can buy tickets from all train, tube and bus stations if you prefer and carrying coins rather than notes is recommended as change is not always given.

(London Underground, Image Source: Pixabay)
In cities such as Cambridge and York in England, cycling is a popular method of traveling around. In part this is due to the large student populations of these cities but also due to their medieval history and road layouts which can make driving difficult.
There are trains to cities all over the UK and most run regularly and all easy to use. If you are going to be driving in the UK then remember you will need to drive on the left. Generally roads in the UK are good, with major motorways connecting the bigger cities and towns. However if you do venture out to the countryside then be prepared for narrow, even single carriage roadways and even dirt tracks!
(UK Motorways, Image Source: Highways Agency)
There are three main airports that serve London alone; these are Heathrow, Gatwick and Stansted. If you are making a trip back home always make sure which airport your outbound flight leaves from and which airport your inbound flight lands at, these could well be different! There are airports across the whole of the UK but not all airports fly to all destinations and vice versa so be sure to check.

Geography and Weather
The UK has four seasons: Spring, Summer, Autumn and Winter although Summer is generally the hottest season and Winter the coldest, often there is no clear weather division between them. This is because the British weather is notoriously changeable!

(Image Source: Channel4)
A day that starts with sunshine in the UK can quickly turn grey and wet and vice versa, therefore it is wise to always have an umbrella to hand. Heatwaves are rare in the UK although so is any other extreme weather too. Having said that don't be surprised to see snow and flooding that leaves the country functioning poorly, with public services usually being affected in these circumstances.

Languages
As you can imagine, most people in the UK speak English, but don't be fooled into thinking that everyone speaks English the same way! Just as Australian and American English sound different to British English there is also similar variation in how British English sounds within the UK.
Very broadly speaking there is a northern English accent and a southern English accent, but be prepared for lots of variation among them.
As you can imagine all this variation mean difference works in the UK can have different meanings to the ones you might be used to. For example, "eggs and soldiers" in the UK, means a soft boiled egg with thinly cut sticks of toast, not a painted toy solider that looks like a member of the queens guard!

(Image Source: Sainsbury's)
In bigger city centres or student towns like London, Leicester and Cambridge there is a huge melting pot of different cultures and ethnicities so you can expect to meet people who speak languages other than English in the UK as well.

Culture
The UK is big on doing things for charity so expect to see charity shops, fundraising events and sponsorship schemes in there hundreds.
Getting dressed up in costumes and fancy dress is big in the UK, especially for hen and stag parties, New Year's Eve and other occasions, especially among young people.
British humour is not to everyone's taste, it is often highly sarcastic and self-depreciating. Beware too that not many subjects are considered taboo when it comes to English comedy so keep an open mind and have a good laugh.
Generally, British are polite and friendly and for the most part, used to meeting people from abroad.
Accuracy and punctuality are appreciated in the UK. So is being organised. Therefore if you have any administrative tasks to do, try to bring all required documentation in the exact form requested, it will save you a lot of time in the long run and everyone will appreciate it!
In the UK friends are often greeted with a handshake, women may kiss each other on the cheek and among the younger generations you can expect to see waves and hugs too.
You can never say please, thank you or sorry enough in the UK, good manners are a big part of the culture.
Speaking of manners, it is considered polite to give up your seat, especially on public transport, to people more in need of it than you, such as the elderly or pregnant ladies.
Jaywalking isn't illegal in the UK and frankly, everybody does it.
Waiting in line (queuing) in the UK is a serious business, cutting in line is highly frowned up on and you can expect a curt word if you're caught doing it.
On all escalators and especially those in tube stations, the etiquette is to stand on the right hand side and leave space to the left for people to walk past you.
Tipping is done in Britain, but for the most part only in restaurants and maybe bars (not at the cinema, theatre or shops) and usually the tip is expected to be 10% of the total bill.
Pubs are a huge part of British culture, and many do food, quizzes and games as well as beer and other alcoholic drinks. However you do not have to drink alcohol to enjoy the pub, it is equally acceptable to order a soft drink or even tea…
English Quirks
Tea is big business in the UK; expect to be offered a cup at almost any point during the day! There is breakfast tea, afternoon tea, and cream tea, not to mention the different types of teabags too. However quite confusingly and especially in the North of England, tea can also refer to your evening meal.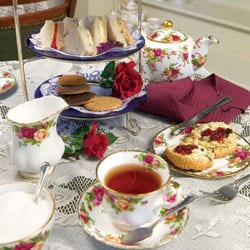 (Image Source: Tea-time Magazine)
Putting your cutlery together in the middle of your plate is the only way to indicate that you are finished eating.
Beer is drunk at room temperature, and if you want ice, expect to get a cube or two, not a glass full of ice.
Drinking is very big in the UK and most people over the legal drinking age of 18 drink so you can find every generation enjoying a pint almost everywhere.
Drugs are highly illegal
Travel Essentials
Regardless of wherever in the world you are coming from, the chances are you will need a plug adapter for the UK. The electrical system uses a rather large, three pronged plug and socket system running on 230/240 volts. Sockets also feature on/off switches so plugging something in isn't enough, you need to then turn the plug socket on at the switch too.
(Image Source: The BBC)
Mobile Connectivity and Services
As is the case when moving to many foreign counties, it will always be cheaper to get a local mobile phone number than using your existing one. In the UK there is a wide range of providers for mobile phones including but not limited to: EE, Vodafone, Orange, Three and Virgin. There's both 3G and 4G networks available and the majority of the country has good mobile connectivity and signal strength. There is more information on that just here.
For landline connectivity and broadband there is equally wide choice of providers from the likes of Sky, Virgin, BT and TalkTalk. You will need to pay monthly line rental for broadband in the UK and this is usually between £12 and £15, then you pay a monthly subscription fee for your broadband usage on top of that – this can start from as little as £1!.
Food and Drink
In larger cities, there is a wide variety of tasty food choices available. Typically English meals tend to feature meat and potatoes and in winter these are often a good choice. You can also expect lots of bread and butter, either eaten as a quick snack at any point during the day or as a side to a main meal. Some traditional English meals include: bangers and mash, steak and ale pie, corn beef hash, roast dinners, toad in the hole and bubble and squeak. However, Indian cuisine has also had a big influence on British food so you can also expect to find lots of curry dishes too.
Of course if British food isn't for you, then most of the supermarkets offer a selection of ethnic and world food and in many cities there are often specific supermarkets for particular cultures, e.g. Polish or Chinese.
Useful Links
England, What you Need to Know
10 Things You Should Know Before Moving to the UK
Fodors
UK Immigrate
Move to England

<< Previous Post
How Can I Do Better in an English Job Interview?