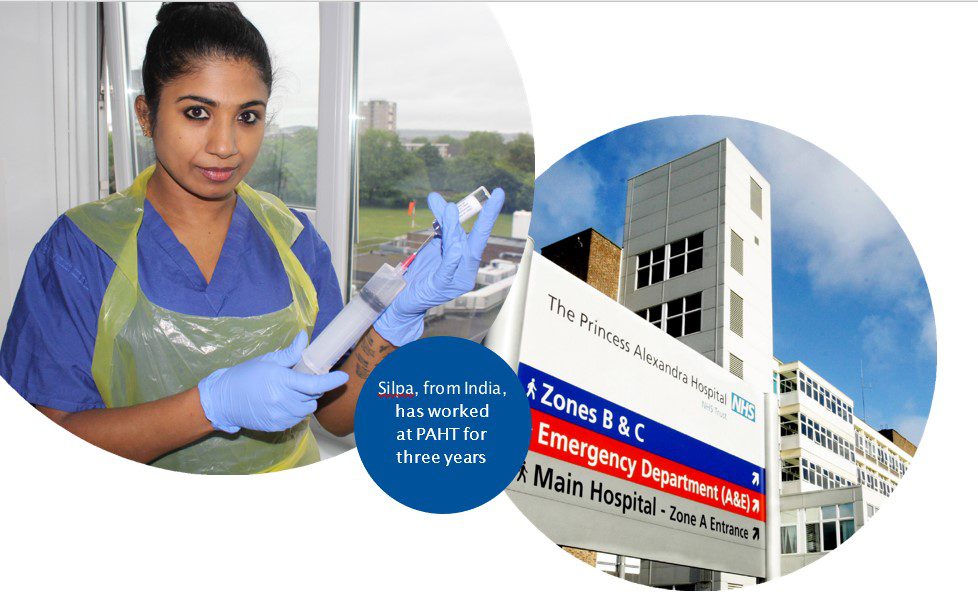 Working at Princess Alexandra Hospital as an international nurse
The ambition of the trust is to deliver outstanding healthcare to their local community. In order to achieve this, the trust's objectives, the five Ps, focus on patients; people; performance; places and pounds with patients at the centre of all they do and putting quality first.
The yteam at Princess Alexandra Hospital have a clear set of values and behaviours that are lived by thei staff to provide the best possible care for patients and the best working environment for all their staff:
we are respectful and treat others as we would want to be treated ourselves
we are caring and always put patients first
we are responsible and always say what we are going to do
we are committed and strive to be the best
About The Princess Alexandra Hospital NHS Trust
The Princess Alexandra Hospital NHS Trust (PAHT) is a small-medium sized general hospital and provides a range of services including 24/7 A&E, an intensive care unit and a Level 2 neonatal intensive care unit across three hospital sites in Harlow, Bishops Stortford and Epping. Their breast unit at St. Margaret's Hospital is one of the largest breast cancer clinical trials facilities in North London, Essex and Hertfordshire.
More information about the trust can be found at www.pah.nhs.uk
Our international nurse recruitment programme
PAHT are extremely proud of the nursing and midwifery team  they have, who strive to deliver caring and compassionate high quality care to patients and work closely with doctors, physiotherapists and other members of the healthcare team to deliver the best outcomes for patients each and every day.
The trust understands how difficult it can be moving to a new country so on arrival at PAHT you will be supported by their dedicated practice development team who will work with you for 3 weeks preparing you for your objective structured clinical examinations (OSCE). All international nurses must have an OSCE in order to register with the Nursing and Midwifery Council (NMC) and work in the UK.
As a PAHT nurse, you will have access to training and development programmes and you will be supported to undertake training to help you reach your potential. The trust will support you to develop your career and encourage nurses to rotate to different areas across the trust to gain clinical experience.
Princess Alexandra Hospital is one of the few trusts to have a truly multi professional approach to learning and you may find yourself on a training course alongside pharmacists, ODPs or occupational therapists. They work closely with the universities of Essex and Hertfordshire, and Anglia Ruskin, supporting nursing students on their clinical placements and a range of other students such as paramedics, nursing associates and assistant practitioners making sure they have the best student placements.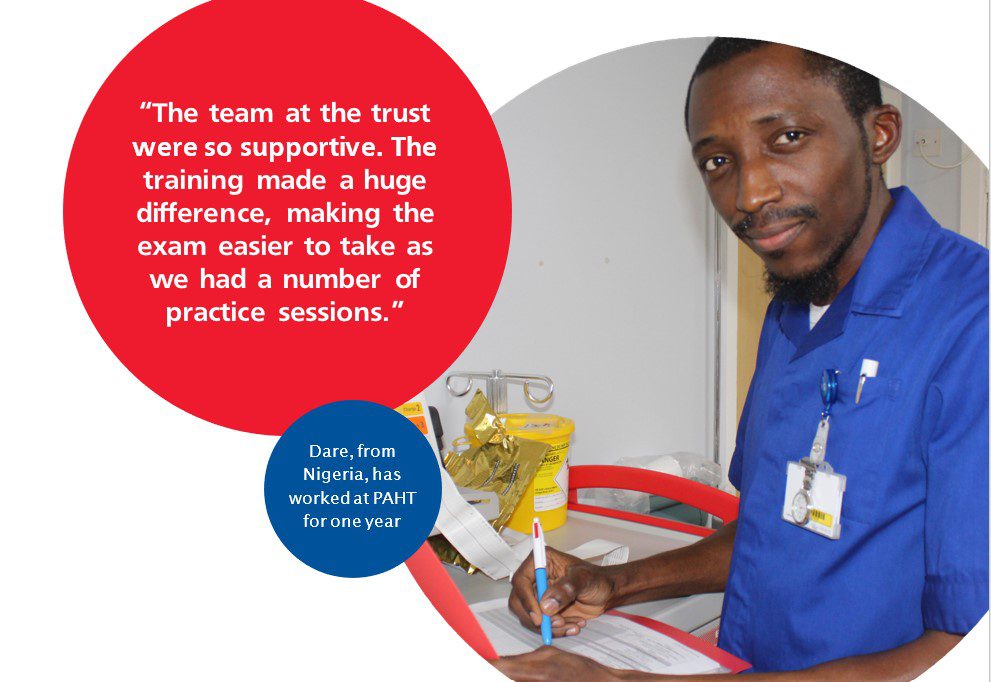 The Princess Alexandra Hsopital practise development team (PDT) are experienced in helping you settle into life in the UK and being a PAHT nurse. Saritha one of their practice development nurses, came to PAHT as an overseas nurse and so understands many of the worries you may have and will help you settle in. In the first few weeks you will visit the ward or department you have been allocated to and will be allocated a mentor.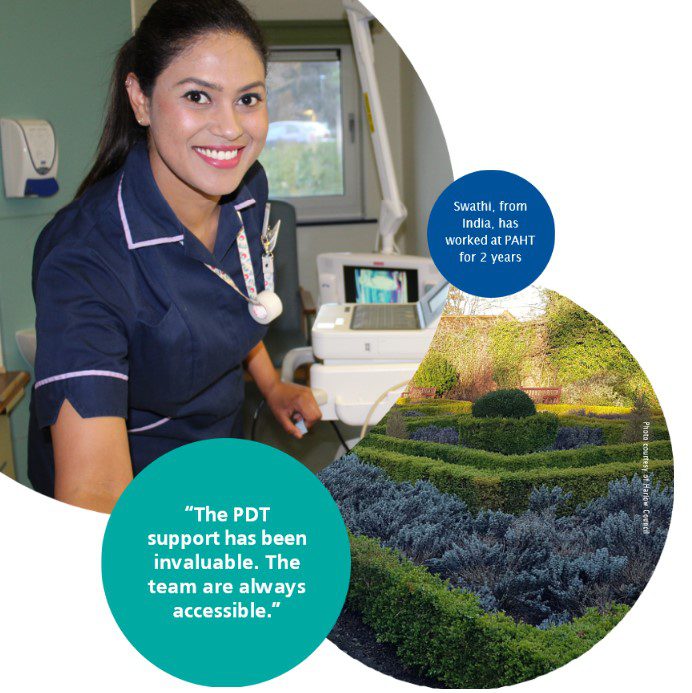 You will sit your OSCE at the end of the fourth week in the trust and will then join your ward as a staff nurse (registered nurse). You will have local orientation and support on the ward from your colleagues and mentor and from clinical practice educators who will work alongside you as you get used to working in the UK.
After successful completion of your OSCE, and gaining UK registration, you will then be enrolled in a one-year preceptorship programme. The aim of the preceptorship programme is to ensure the process of adapting to UK policies and processes both clinically and professionally are embedded in your daily practice. The preceptorship programme also provides a support mechanism for all new registered nurses, with a preceptor being allocated to you within your clinical area. This will enable you to work with your preceptor who will support and guide you in all areas of your development. During the programme, you will also attend several in-house study days which will underpin your existing knowledge and help you develop further knowledge and skills, which will give you a solid platform for your ro progress in your nursing career.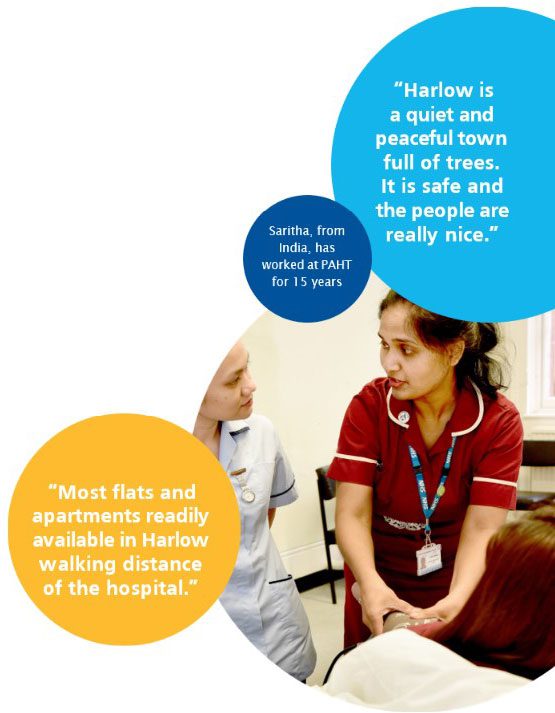 What The Princess Alexandra Hospital Trust provide
As well as helping you with your OSCE, they will also help you with accommodation and other support.
Accommodation
The trust provides accommodation either in single rooms or shared flats, either in the hospital grounds or within a short distance of the hospital. The lease for hospital accommodation is for 6 months and the trust will pay for the first 4 weeks rent. The trust has a number of contacts with lettings agencies as well as local support networks to provide support and advice on finding your own flat or house in Harlow.
Financial support
They know how difficult it can be when you first arrive in a new country and set up a new home. To help you with this, you will be given £200 welcome pack to help with those initial costs.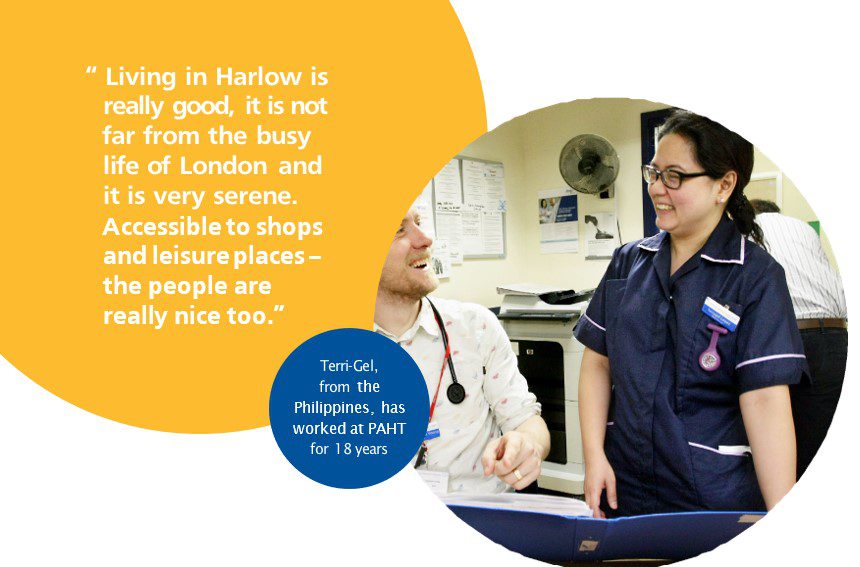 About Harlow
Harlow has a diverse culture with many international restaurants and shops within the town and nearby. It has plenty of sports and leisure activities including a theatre, cinemas, museums, libraries, sports clubs and leisure centres. Harlow Town Park is one of the biggest urban parks in Britain and offers many attractions for the whole family.
Having two train stations, getting away is easy too. London is just 20 minutes away by train, Stansted airport a short bus ride and Heathrow airport reachable by bus or train.
There are 31 primary and secondary schools in Harlow providing education for young people, and educational attainment in Harlow's secondary schools is above both county and national averages. There is a number of further education opportunities including Harlow College and Sir Charles Khao University.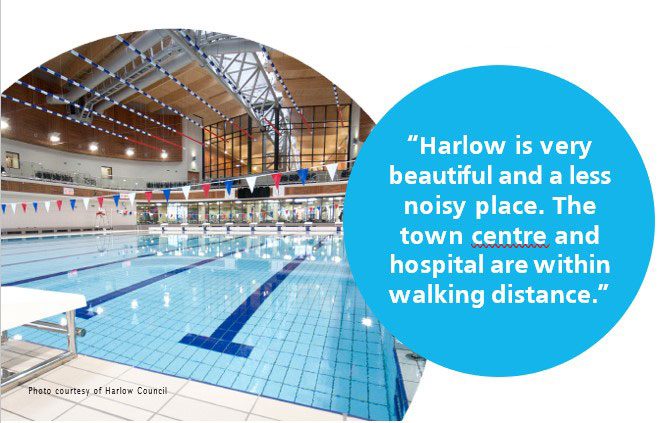 Staff benefit from:
Multi faith service and equality and inclusion groups
Staff concessions in our onsite restaurant
An onsite healthcare library and knowledge service that supports staff, including students on placement, in their practice of evidence-based healthcare.
Personal development and training opportunities
Flexible working (dependent on eligibility)
Staff health and wellbeing and employee assistance programme
Onsite hospital crèche 0700h to 1800h ages 0 to 2 and 2 to 5
NHS Pension scheme
Cycle to work and new care schemes
NHS discounts – a range of benefits to suit all ages and interests, to help make your work and home life easier. http://www.healthservicediscounts.com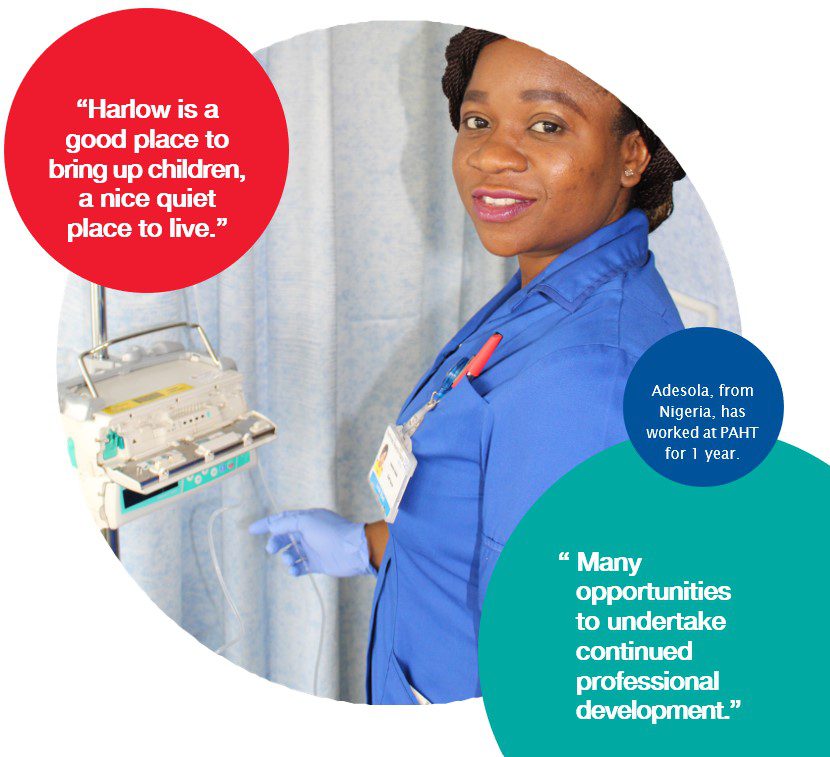 Contact the Kate Cowhig International Healthcare Recruitment agent for Princess Alexandra Hospital at
Melissa.Coady@kcr.ie. International candidates whos first language is not English must have their IELTS or OETs results before applying.
<< Previous Post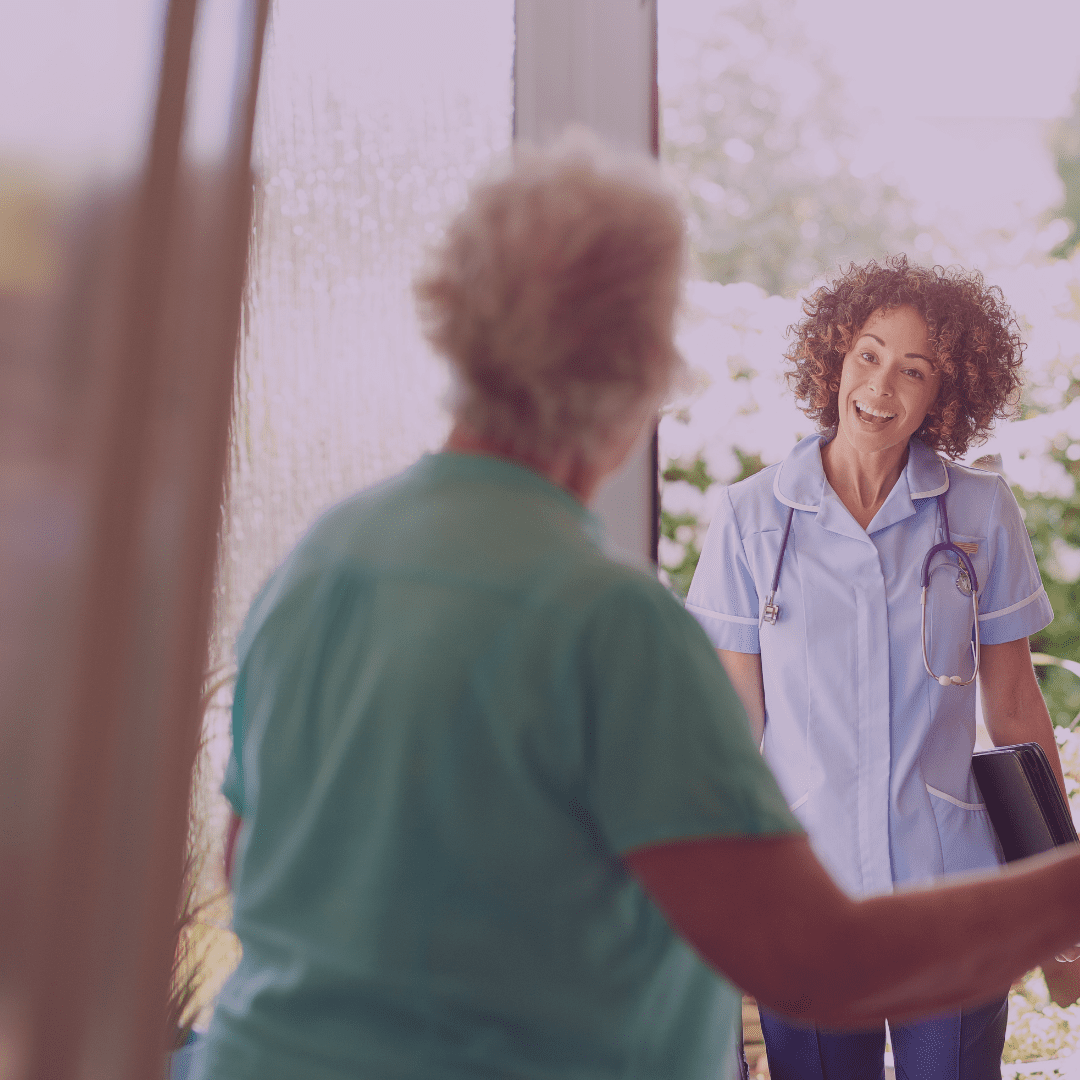 Community Nursing Positions Across Ireland
Next Post >>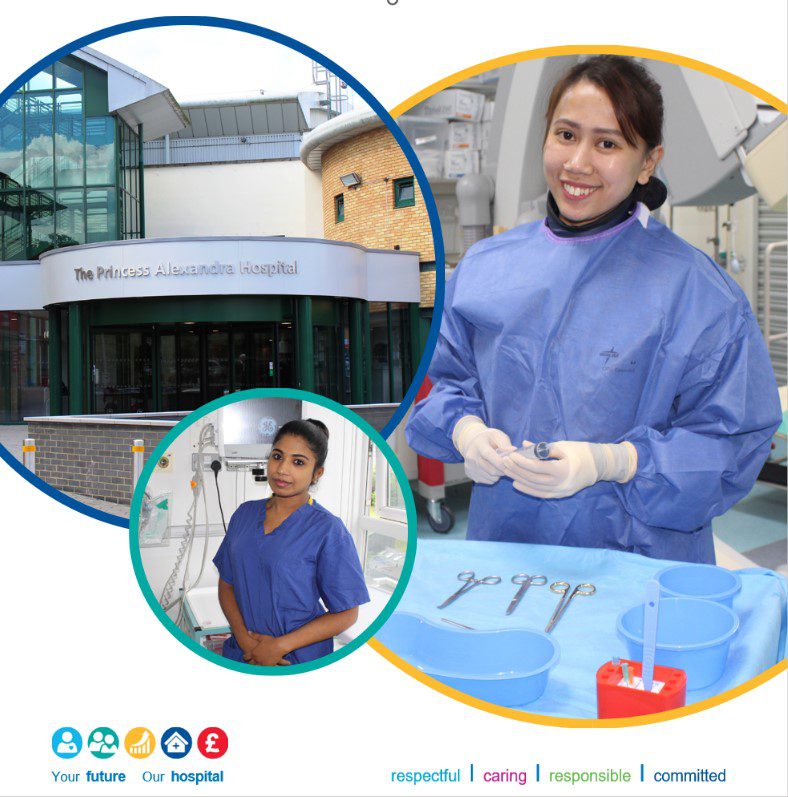 Subscribe to Job updates