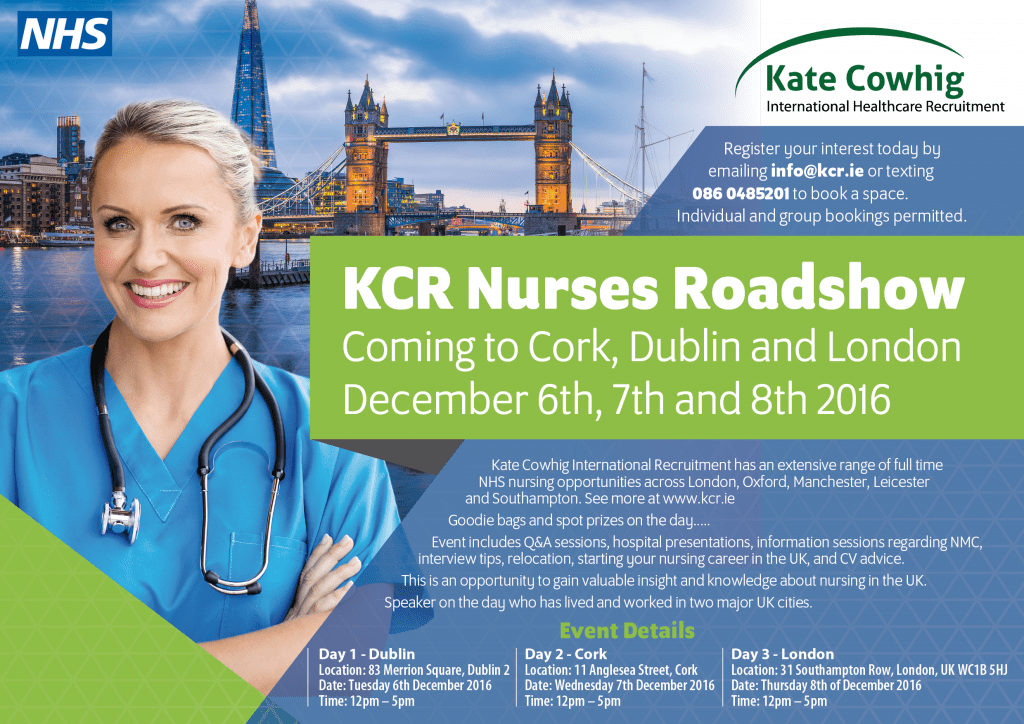 Are you thinking about relocating to the United Kingdom (UK) for a rewarding career as a NHS Staff Nurse? 

Come along to the upcoming KCR Roadshow to find out more about current staff nurse opportunities in the UK. The event will take place in Cork, Dublin, and London from December 6th to 8th. The event will include:
Hospital Presentations 
NMC (Nursing & Midwifery Council) Information Sessions
CV Advice and Interview Tips 
Relocation Advice and 
lots of more information about relocating to the UK to start your nursing career. 
Goodies bags and spot prizes on the day. Come along and meet other nurses who are also considering a career in the UK. Consultants from Kate Cowhig International Healthcare Recruitment will be at hand to answer any queries and offer advice where possible.

 Event open to final year nursing students, new graduates, and experienced nurses!



The event will provide guidance to nurses to kickstart or continue their nursing career with the NHS in the United Kingdom. We all know it can be a daunting experience trying to secure an interview and processing the necessary paperwork for a new role. Kate Cowhig Recruitment have an extensive team of experienced consultants who are ready to help you every step of the way!

Day 1: Dublin Ireland, Tuesday 6th of December, Drop in between 12pm – 5pm
Day 2: Cork, Ireland, Wednesday 7th of December, Drop in between 12pm – 5pm
Day 3: London, UK, Thursday 8th of December, Drop in between 12pm – 5pm 

Vacancies for newly qualified and experienced staff nurse positions at NHS trusts across the UK include the following locations: London, Southampton, Portsmouth, Oxford, Leicester, Nottingham, Essex, Manchester and more!
Each hospital will give you the best start to your nursing career!

Pop in and say hello to the KCR team.
Register your interest today, email info@kcr.ie or text +353 86 0485201. 
See you all very soon!