Frequently Asked Questions About IELTS
(International English Learning Testing System)
The IELTS exams can be a confusing and scary process. Your IELTS exam is the first step you must take to begin your journey to your chosen English speaking country.
Here at Kate Cowhig Recruitment we want to make your journey as easy as possible, so we've answered a few FAQ's to help put you at ease when it comes to taking your exams.
~What is the IELTS? IELTS is designed to assess the English language skills of candidates who want to study or work in countries where English is the language of communication.
~Why are they required? They are required to be eligible to register for the NMBI (IRL) or NMC (UK) to legally work as a nurse in Ireland/UK.
~Where is IELTS recognised? IELTS is recognised by universities and employers in several different countries such as Ireland, UK, New Zealand, USA and Canada.
~What does the test consist of? The test comes in two forms; Academic or General Training Module. Here at Kate Cowhig Recruitment we require you to sit the Academic Test.
~What areas does the test examine? IELTS exam 4 areas, Reading, Writing, Listening and Speech.  
Reading; 60-minute exam consisting of 40 questions. These include reading for gist, reading for main ideas, reading for detail, skimming, understanding logical argument and recognising writers' opinions, attitudes and purpose.
Writing; 60-minute exam consisting of 2 questions. You are asked to describe visual information in your own words and respond to an argument/problem.
Listening; Approx 30-minute exam consisting of 40 questions. The listening is broken into 4 sections and is made up of conversations and monologues.
Speaking; 11-14 minute exam, broken into 3 parts. Here you will have an oral interview with the examiner.
~How long is the exam? The total test time is 2 hour and 45 minutes.
~How much does the IELTS exam cost? The IELTS test fee is €195 (£200). This fee is not reimbursed as part of your application fee, however other reimbursements and benefits are included.
~Where can I sit the IELTS exam? IELTS are available in over 1,000 locations. Click here to find a location near you.
~What are the required results? To be considered for a face to face or skype interview with Kate Cowhig International Healthcare Recruitment you must hold an IELTS overall band score of 7, with 7 in speaking/writing and 6.5 in listening/reading.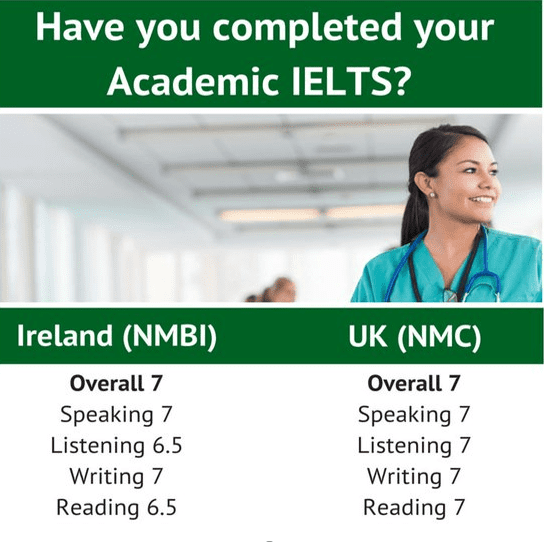 ~Can you sit two exams and combine the results? If you sit 2 tests within 6 months of each other, you can combine results of both exams once your results are above 6.5 and you achieve 7.0 or higher in all four fields when the results of both sittings are viewed together.
~Are all 4 sections of the exam taken on the same day? The Reading, Writing and Listening exams are taken all on the same day, without breaks. The Speaking exam can be completed a week before OR after you complete the main exam.
~How long are my IELTS results valid for? Your results are valid for up to 2 years.
Once you have successfully sat your IELTS exam and achieved the desired result (see image above), you have completed your first step of receiving your working VISA.
The next step is to send us your CV along with your IELTS results to info@kcrjobs.com, where we can help you with finding permanent staff nurses positions in the UK and Ireland.
Please look out for our upcoming blog to find out more about how to register for the NMBI (IRL) or the NMC (UK).
We look forward to hearing from you 😊
<< Previous Post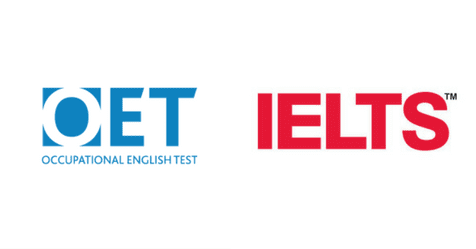 OET VS IELTS - Kate Cowhig International Healthcare Recruitment