Before we begin, as an overseas applicant you must meet the following requirements to begin your application towards the NMBI;
Hold a current registration, or licence without restriction.
You must have practiced for at least 12 months during that five-year period. (Kate Cowhig Recruitment require no present gap in employment)
Meet OET/IELTS requirements.
FIVE STEPS IN THE APPLICATION PROCESS:


Step 1: You need to download and complete the Overseas Registration Application Request Form.
Documentation required;
Personal contact details
Division(s) of the register
Your TRF number/OET candidate number
Payment details
Step 2: Once NMBI has processed that form, you will receive an Overseas Registration Application Pack.
Section 1 of that pack must be completed by you.  Section 2 includes forms that you should send by you to relevant authorities.
Relevant authorities must complete the forms in Section 2 of the pack and return them to NMBI.  The forms include transcript(s) of training, Verification (CCPS) and Employer Reference(s).  They must come from the relevant authorities, such as:
The Higher Education Institution(s) where you trained as a nurse or midwife
A "competent authority" which regulates the nursing and midwifery professions
Your current or former employer
NMBI cannot accept these forms or any supporting documentation from you, the applicant.  They must receive these documents from the competent authorities. 
Step 3: The next step involves ensuring that relevant authorities complete their forms and return them directly to the Nursing and Midwifery Board of Ireland (NMBI). Once you have set up an online account with NMBI following receipt of your Overseas Registration Application Pack you will be able to track your application and see which forms have been received by NMBI.
Step 4: NMBI will carry out an assessment of your application.  This can only begin when they have received all the completed forms and documents in the Overseas Registration Application Pack.
Step 5: They will issue a decision letter with one of four possible outcomes of the assessment:
4 RECOMMENDATIONS FROM KCR;
If you have family or friends living in Ireland, we would recommend you put down their address for correspondence. This speeds up the process as there is often a delay when receiving post from overseas.
Follow instructions carefully, as outlined on the pack. Please don't have an excuse for another delay in your decision letter i.e.                                                                            
Please ensure your transcript of training form has a stamp with your Higher Education Institute on it.
NMBI will need a certified English translation of any document that are not written in English. You need to ensure the specific documents are; ✅

Carried out by a qualified translator.

✅

Signed and stamped by the translator.
i.e. If your birth certificate is not in English, you should send us a certified copy of your birth certificate and a certified English translation of your birth certificate.
4 FREQUENTLY ASKED QUESTIONS (FAQ'S);
~How long does the NMBI process take? Once NMBI receive all the correct documentation for an application, they will assess it within 90 days.
~How much does the application cost? An overseas application costs €350.
~Who pays the costs of translating documents? Applicants must pay the cost of translating these documents and need to be factored into the costs of the application process.
~When can I log into the NMBI website to track my application? You will be given your log in details to track your application at the second step. Once this step is completed you will be given your application reference number and security code.
Once you have completed your first step of the application, please send your CV and OET/IELTS results to info@kcrjobs.com and we will be happy to find you the right nursing position in Ireland.
<< Previous Post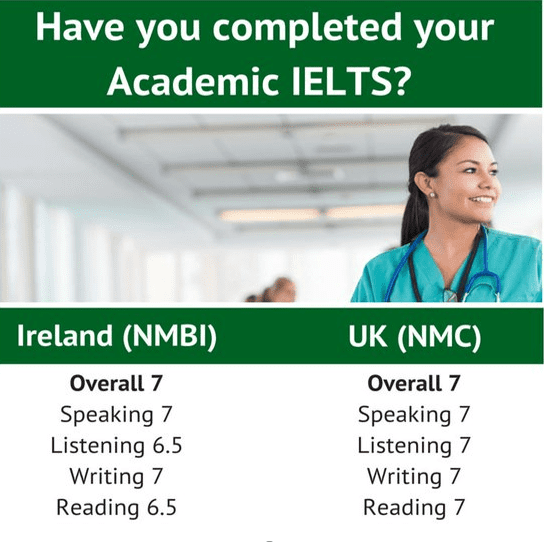 FAQ's about sitting the IELTS exam
Next Post >>

FAQ's about sitting the OET exam