KCR are working with International hospitals in the USA. Offering amazing opportunities to Staff Nurses with post-graduate experience (RNs) wishing to work in their choice of area of specialty on a two year contract in popular locations throughout the USA. It is an exciting opportunity for you & your family to gain a United States Green Card!
KCR can give you the opportunity to work in North Carolina, USA. Allowing you to increase your skill sets and nursing knowledge, giving you an opportunity at these leading teaching hospitals to learn cutting – edge skills that increase your career opportunities.
The Position
Qualified Staff Nurses will have the opportunity to work in their preferred specialties: Acute Medicine, Acute Surgery, ICU, Paediatrics, Obstetrics, Emergency ICU and Operating Theatres across leading teaching hospitals. Planned orientation will be provided depending on hospital up to 12 weeks.
Positions are offered through the international nursing program, you'll receive end-to-end support on every step of the nursing license, U.S. visa and sponsorship process.
The Location
North Carolina is a state in the southeastern region of the United States. The state borders South Carolina and Georgia to the south, Tennessee to the west, Virginia to the north, and the Atlantic Ocean to the east. North Carolina is the 28th most extensive and the 9th most populous of the U.S. states. 
The capital is Raleigh, which along with Durham is home to the largest research park in the United States (Research Triangle Park). The most populous municipality is Charlotte, which is the third largest banking center in the United States after New York City and San Francisco.
Requirements
A minimum of 18 months post-graduate experience in an acute hospital setting

Candidates must have passed the NCLEX exam or are preparing to do NCLEX within the next three months

Candidates who have trained in a non-English speaking country must have passed the Academic IELTS with an overall band score of 6.5 and 7.0 in speaking. There are no fixed score requirements for reading, writing or listening
Offer:
Salary range $26 – $40 per hour (36 or 40 hours per week – depending on location)

Guaranteed 2 year contract

Relocation & Accommodation Assistance

Free Flight & Free Hotel on Arrival

Meet, Greet & Transfer from the Airport

Benefits: Health, Dental, Vision, $401K (Retirement)

Completion Bonuses

Travel Advantage Programme: Fantastic Discounts While Exploring the United States!

Life & Professional Liability Insurance

Free Continuing Education & Professional Development

UNITED STATES GREEN CARD FOR YOU, YOUR SPOUSE AND UNMARRIED CHILDREN UNDER THE AGE OF 21 YEARS (at time of embassy appointment)*

Clinical and Social support while on assignment
Immediate Interviews with full recruitment support from a dedicated KCR team member.
Send Your CV/Resume and NCLEX Certificate to usanursing@kcrjobs.com or Phone +353 1671 5557.
Visit www.kcrjobs.com for more details.
<< Previous Post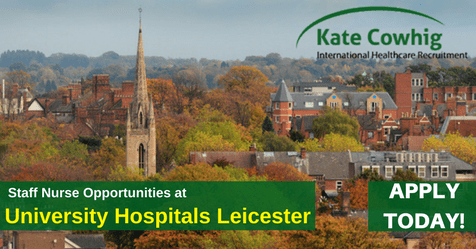 University Hospitals of Leicester NHS Trust – Skype Interviews