Medway NHS Foundation Trust are seeking Staff Nurses with experience in Medical and Surgery
Medway is located in Kent and is often referred to as 'The Garden of England'. Medway NHS Foundation Trust provides excellent clinical services to almost half a million people including 110,000 Emergency Department attendances, 62,000 inpatient admissions, over 325,000 outpatient attendances and more than 5,000 babies were born at the hospital last year.
The hospital also boasts of an excellent OSCE pass rate of 92% – 94% and provides a fantastic six-week OSCE training program FREE to all candidates.
Medway NHS Foundation Trusts ambition is to build a team and a working environment that is second to none and truly 21st century.
The hospital is an attractive location for those seeking a lower cost of living to that of London and is situated within one hour from London Gatwick and London Heathrow Airports.
Salary and Benefits:
Salary: £23,023 – £29,608, depending on years of experience.
Up to £3,000 per annum for shift differential (overtime and weekend shifts)
Paid annual leave: 27 days per annum plus 8 public holidays.
Permanent full-time positions, 37.5-hour working week.
OSCE training program provided by the Trust.
Relocation assistance:
CBT exam fee of £130 refunded*
UK visa fee of £536 refunded*
NNC application fee of £140 refunded*
Immigration Health Surcharge of £600 refunded*.
One month's accommodation FREE (value £425)*
£200 paid to the candidate once employment begins and another £225 after 3 months of employment to help start-up cost*
Assistance with NMC registration
---
Where is Medway NHS Foundation Trust located and what does the surrounding area have to offer?
Medway NHS Foundation Trust is located in Gillingham, Kent- South East of England.
The Trust is located within one hour from London Heathrow and London Gatwick Airports, perfect for those looking to travel home.
Known as "The Garden of England', Kent is surrounded by beautiful coastlines, picturesque castles and scenic beaches.
Kent is also home to one of Europe's biggest shopping centres, Bluewater, which holds a varity of shops, cafes and restaurants for you to enjoy.
With London just one hour away by train, you can easily visit the busy capital on your day off. There are lots of things to see and do in London. Tourist attractions include Big Ben, the Tower of London, Buckingham Palace, Hyde Park, the London Eye, Tate Gallery, and Westminster Abbey (to name a few).
---
Cost of Living in Kent VS London
Despite London being just one hour away by train, Kent offers a much cheaper cost of living, with the average residential property price approximately 33% cheaper than London.
Look at the table below to compare Kents prices with those in London;
---
Interested in applying?
Requirements: 
Suitable candidates will have a diploma/degree qualification in nursing with a minimum of 12 months recent acute hospital experience.
Academic IELTS (S/L/R: 7, W:6.5) or OET Exams with Grade B in all four subsets.
How to apply?
To apply, all you have to do is email your CV and IELTS/OET results to info@kcrjobs.com. Monthly Skype interviews are available and can be arranged at your convenience.
Want to find out more about the hospital? Check out this video!
For any further inquiries, you can call our experienced recruitment team on + 353 1 671 5557
Next Post >>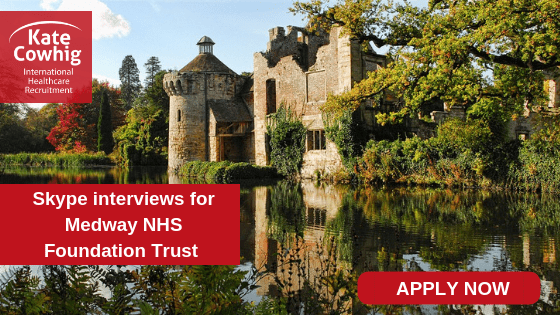 Have You Ever Considered Working for the NHS?